Update For Sea Of Thieves
Rare have released a new video detailing big changes for their upcoming title Sea of Thieves.
Sea of Thieves is an action-adventure first-person sea faring game. Players form a crew, either through matchmaking or by inviting friends, to set sail in this open-world multiplayer game. The game focuses on co-operation, as players work together to steer their ship and defend their loot from other crews.
Sea of Thieves will have a much larger world for players to explore, thanks to update Alpha 0.1.1 announced in the video. As well as more sea to sail, Rare have added additional islands to investigate. More islands mean more outposts, so players can drop anchor at a number of new locations.
The short clip also highlighted some other new features. There was a glimpse of some skeletal baddies to fight and new in-game challenges like stealing loot from other crews.
Inside The Development Process
Regular updates like this are closely linked to Rare's Insider Program, an oppurtunity for interested players to sign up and get insight into the game's development. Rare's Joe Neate and Bobby Lamirande explained the aim of the program as part of the Sea of Thieves Inn-side Story video series.
Insiders get regular updates on the game and where it's at in the development process. Members provide feedback on Sea of Thieves through surveys or questionnaires. This allows the development team to get gamers' opinions on specific aspects and then to tailor the game accordingly.
However, not everyone that signs up will get a look at the game. Although some may be disappointed to not be selected, the Rare team have said that general feedback from the Insider Program has been positive. In December, only 1,000 Insiders were able to test an update to the game. According to the latest video, the pool of players has grown since then, although the exact number is unclear.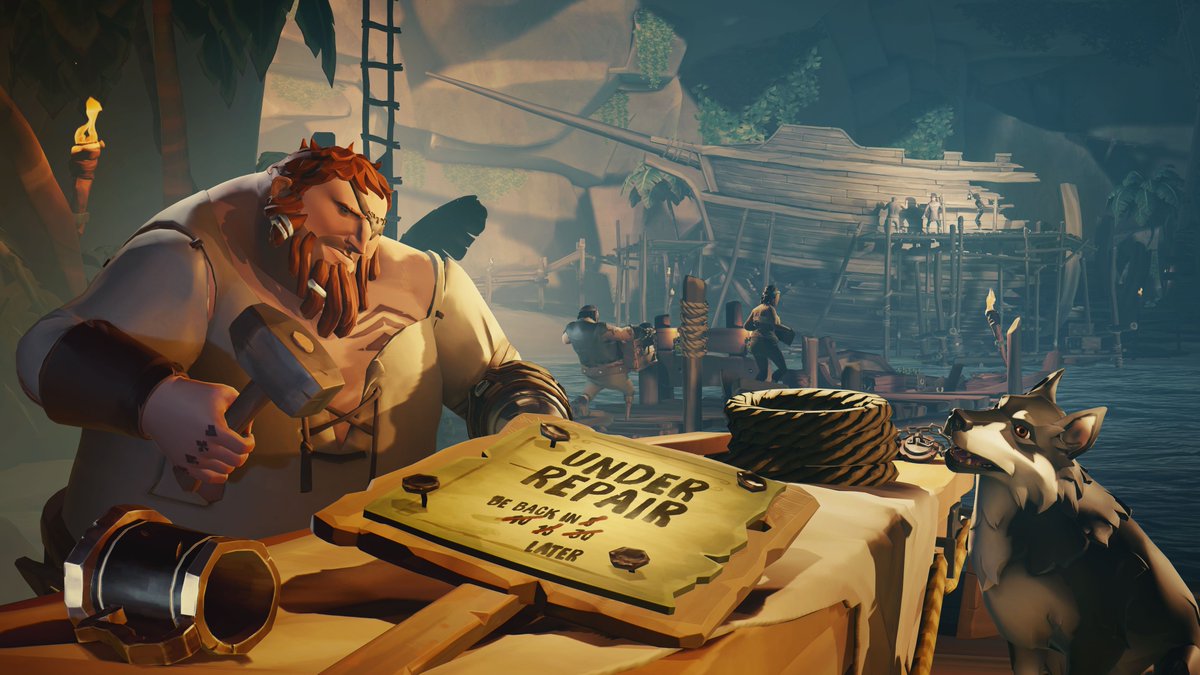 A Pirate's Life
Rare's decision to launch the Insider Program shows a new transparency in the development process. Not only are they letting gamers peek behind the curtain, but they're also letting them take part in the process. It's a great way to get players involved with the game before they purchase it. They can get a good sense of what the game has in store and test the gameplay in a smaller setting before the player pool increases.
Insiders also have access to private forums where they can discuss the game. Players can compare their experiences with Sea of Thieves and create a community. As these players have had a hand in shaping the game, they will also have a stronger connection to it, even a sense of ownership. For a game that relies so strongly on groups or "crews" of players working together, this sense of community is important. This is a new, deeply-involved way of developing community for an online game and it will be interesting to see if other developers use this method in the future. By deepening the connection between the players and the game, this could ideally extend the life cycle of online games.
In The Players' Hands
The type of game that Rare have pitched, this communal sea-faring epic, fits well with both the development process and the Insider Program. With players pitching in to test updates and also working together in-game, Sea of Thieves is a group effort in more ways than one.
Rare urges players to "be the pirate you want to be." This encouragement to weave your own narrative goes hand in hand with Rare's emphasis on player agency. They've placed faith in the player as a creative force. And that faith exists in both the structure of the Insider Program and in the gameplay. For example, although there will be quests, the overarching narrative is to be shaped by the players. Every ship on the sea will be manned by other players, and it's these interactions that shape the game. Similarly, it's the feedback from the Insiders that is helping to build the game.
The interest surrounding Rare's next title may be modest, but there's still plenty of buzz for Sea of Thieves. The popularity of Assassin's Creed IV: Black Flag also showed that there's definitely a market for daring pirate capers.
But with two E3s under its belt and still no release date, it's hard to say when gamers will get their hands on Sea of Thieves. To have a chance at getting an early glimpse of the game, you can sign up for Rare's Insider Program on their website.