Fighting games have been a part of gaming since the early days. Once composed of a few pixels, the fighting genre has evolved into large titles filled with dense detail.  Games such as Tekken and Mortal Kombat still reign supreme among players who enjoying testing their skill.  Now a new title is entering the fray with Punch Planet from indie developer Sector-K. Besides the attention grabbing name, Punch Planet is a rare indie fighting game that's off to a more than promising start.
EARLY DAYS
The first effort by Sector-K, the origins of Punch Planet lay in another indie fighting title. "The project for me has been going for quite a long time.  I had been building the base fighting game engine for over three years now calling it the Double Tap Engine," said Lead Programmer/Gameplay Designer Will Graham in an interview with Two Left Sticks.
After continuing his work on Double Tap, Will was eventually contacted by Lee Wolland. This connection soon led to a collaboration, and Lee was eager to begin work on the project.
Of what drew him to contact Will, Lee said, "I always wanted to make a fighting game and a few years ago I got my hands dirty writing my first engine. When I saw how advanced Will's game engine was I had to reach out. After discussing our game philosophies, we decided to partner up and create a fighting game we'd both be excited to play."
To further help realize what would soon become Punch Planet, Will and Lee enlisted the services of Paul O'Rourke. Serving as the Sound Designer/Composer on the project, Paul was as equally excited to join the team."It's been a big dream of mine to work on a competitive game and there isn't a genre I love more than fighting games. The art direction and gameplay really called out to me and the soundscape of Punch Planet quickly evolved," Paul said.
PUSHING FORWARD
Fighting games made by indie developers aren't a new thing, but at the same time, it isn't a common occurrence. If anything, a fighting game often requires more skill than putting a sandbox game together. If the base feel of the moves and characters don't feel good then a game is essentially dead on arrival.
Sector-K is aware of the high quality they need to reach with Punch Planet, and they're up for the challenge. "As longtime fighting game players, the three of us share the same appreciation for what a good fighting game should be. Our different strengths make for a balanced partnership," said Lee. "We are passionate about putting out a great product and keep a highly disciplined work schedule. This is important since I am in Brooklyn and Will and Paul are in San Francisco. As the scope of the game expands we will run into new challenges.  But so far the communication has been solid which is key to any project."
FIGHTING WITH STYLE
An essential ingredient in any fighting game is a unique visual style. Ever since the rise of the genre, titles have sought out to offer art direction that deepens the world, and offer visual wonder.
Punch Planet is following this visual formula in a rather striking way. Featuring three-dimensional character models against 2D backdrops, Punch Planet evokes a retro, yet modern, feeling. With art reminiscent of the clean design of European artists such as Moebius, Punch Planet has a distinct personality with unmatched visual clarity.
"As an 80's kid, I grew up with a lot of classic sci-fi action movies and comics like Heavy Metal Magazine," Lee said.  "I always wanted to do something rooted in these genres and Punch Planet has been a great outlet for that. There are also some incredible things coming out of the animation world today that I'm incorporating into the game."
"The 2 1/2D design aesthetic that we landed on happened very organically after several drafts and playtests. I want to make something modern with nods to retro gaming. Combining the power of 3D with a graphic look allows me to infuse my illustrations into the game without using sprites" Lee continued to say.
CRAFTING THE BATTLES
Punch Planet's indie origin isn't stopping Sector-K from providing the same depth players would expect from franchise titles. Besides their passion for the genre, Sector-K has a deep understanding of fighting games since some members were competitive fighting game players. This, of course, means that a knowledge of the genre is present to aid in the developmental process.
Besides immediate experience, Sector-K is intent on making Punch Planet feel unique. Rather than characters feeling derivative of each other, every combatant will have a specific style. "For me, most of the gameplay inspiration is definitely from the Street Fighter series. Our number one focus with Punch Planet is making sure every character is fun to play. Each character is going to fit into a general archetype (zoner, rushdown, grappler, etc)," said Will.
https://youtu.be/Z2iGmUnQS0A
Will continued by saying, "I follow a very iterative design philosophy.  I like to try various things until it starts feeling right. Traditionally, fighting games tend to avoid frequent patches. That gives time for the meta to develop and techniques to be found and learned. We definitely want to get to this point but we'll need to go through a lot of experimenting until we can be confident with a character's implementation.  So up until that point, there will be very frequent changes."
A clear approach is being followed in how Punch Planet is being tailored for audiences.  "I don't think the fighting games I grew up with were aimed at being accessible. But they were still very fun to play and watch," said Lee. Elaborating more on the game design Lee said, "I want Punch Planet to be a game for fighting game fans. The Meta itself is tailored towards longtime fighting game players but it will still be exciting to play for all gamers regardless of skill level."
FIGHTING WITH PURPOSE
An element which has evolved within fighting games is the advent of story modes. Compared to the brief thirty-second image montages or cutscenes that once accompanied fighting games, players now expect more robust content.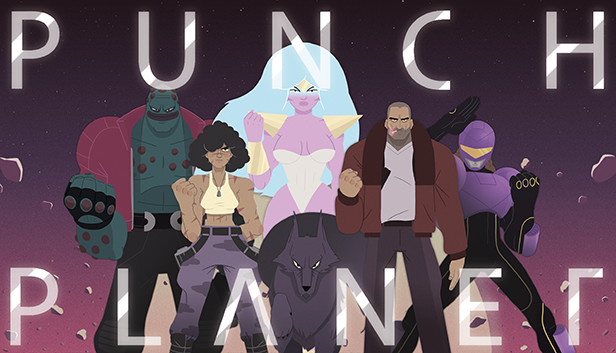 Punch Planet will be satisfying the story itch players have but in a way unique to itself. "We are also adding to the narrative by incorporating Twitter and we will be releasing a webcomic in chapters leading up to the release," Lee said. Players can expect more to the general story of the game, but Sector-K is keeping details to a minimum as development continues. The team is hoping to do something different as Lee also said, "I want to create a story experience that people might not expect from a fighting game."
WAITING TO ARRIVE ON PUNCH PLANET
Recently greenlit on Steam, the reception towards Punch Planet has extremely positive so far. Currently focused on the PC release, a console version of Punch Planet could happen eventually.
The unique art direction and crisp fighting have led Punch Planet to be on a higher level than past indie fighting games. With hopes to reach the e-sports audience, it's clear that Punch Planet is poised for greatness, and with the passion the team has such a thing should be easily achievable.