13 Best St. Patrick's Day Movies on Netflix
I've got some suggestions for you if you're looking for something other than gold in honor of Saint Patrick's Day. Netflix is currently streaming all of Best St. Patrick's Day Movies. You can watch them right now.
It is the one day of the year when it is OK to consume excessive alcohol and criticize people who aren't wearing green attire. After all, what's stopping you? If there's one thing that the Irish have taught us, it's that any reason to drink is an excellent reason to drink.
Most individuals would rather spend their holiday getting drunk in bars and demanding that other people kiss them simply because their mother is one-sixteenth Irish.
If you watch some of Ireland's best St. Patrick's Day movies on Netflix, you might be able to avoid damaging your liver.
The Irishman (2019)
Frank Sheeran, often known as "The Irishman," is a man engaged in various activities. During World War II, he spent his time in Italy working as a high-ranking labor union leader and hitman, which allowed him to learn how to kill.
In addition, he maintains his connections to the Bufalino mafia family while reflecting on his past and the "hits" that shaped his criminal career.
He asserted that he was responsible for the abduction of Jimmy Hoffa, who had previously served as president of the International Brotherhood of Teamsters. They were 62 years old when they mysteriously disappeared in the latter half of July 1975.
Several well-known actors, including Robert De Niro, Al Pacino, Joe Pesci, Ray Romano, Bobby Cannavale, Anna Paquin, Stephen Graham, and Harvey Keitel, are included in the cast.
Kill The Irishman (2011)
Kill the Irishman is one of the Best St. Patrick's Day Movies on Netflix celebrating Saint Patrick's Day. It is based on the life of Danny Greene, an Irish-American kid who lived in abject poverty yet managed to maintain his lovable personality.
He is suspected of corruption while serving as the president of a longshoremen's local union, but he can avoid jail time by cooperating with the FBI.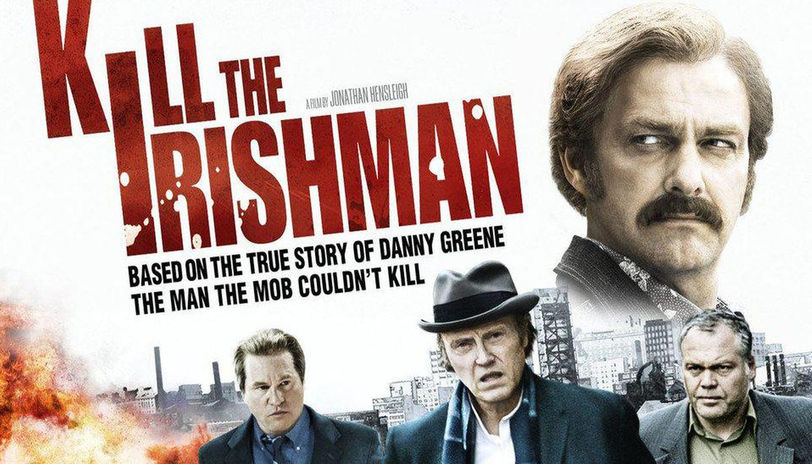 Additionally, after evading many attempts on his life, he allies with a Mafia boss to rise through the ranks of Cleveland's criminal underground. During this time, he earns the reputation of a Robin Hood–like figure who has nine lives.
The film features performances from notable actors such as Ray Stevenson, Vincent D'Onofrio, Christopher Walken, and Val Kilmer.
Derry Girls (2018)
The comedic and coming-of-age story 'Derry Girls,' set in Northern Ireland in the 1990s, is known for its openness and focus on the importance of family. The story follows Erin, who is 16, and her friends as they come of age in a world where armed police in armored Land Rovers and British Army roadblocks are commonplace.
The prominent cast members are Louisa Harland, Nicola Coughlan, Dylan Llewellyn, Saoirse-Monica Jackson, and Jamie-Lee O'Donnell. Saoirse-Monica Jackson is also a part of the cast.
Five Minutes Of Heaven (2009)
Our choice of Best St. Patrick's Day Movies also includes "Five Minutes in Heaven." In February of 1975, UVF member Alistair Little, then seventeen years old, fatally shot Catholic Jimmy Griffin at his home in Lurgan in front of Joe Griffin, Jimmy's younger brother. Joe Griffin was present.
In addition, Alistair is captured and given a prison sentence of twelve years, during which time Joe's mother criticizes him for being unable to save his brother.
In addition, a television broadcast 33 years later reveals that Alistair and Joe will meet in a house in River Finn to discover the truth and bring peace between the perpetrator of the crime and the victim, who is searching for five minutes of heaven. Liam Neeson and James Nesbitt are two of the most notable actors in the cast.
Art Of Conflict (2012)
The murals found in Northern Ireland represent the troubled history of the province. In addition, "The Art of Conflict" examines the impact, purpose, and future of this peculiar form of street art through the eyes of the artists who created it and the people who live in the surrounding area.
Bill Rolston, Gerry Adams, Danny Devenny, Jonathan McCormick, Mark Ervine, and David Ervine are just a few outstanding actors featured in the cast.
Handsome Devil (2016)
The handsome devil is the next film on the list of St. Patrick's Day movies that can be viewed on Netflix. An odd friendship develops between two younger students who are roommates in the same all-boys boarding school. One of the students is a social outcast, while the other is a standout on the rugby team.
In the meantime, the men's friendship is tested when it is revealed that one of them is gay due to the high expectations set by others fascinated with rugby.
Because we have a new English teacher who encourages pupils to find their voices and to challenge themselves to do so. In addition, some of the more notable members of the cast are Andrew Scott, Fionn O'Shea, and Nicholas Galitzine.
The Siege of Jadotville (2016)
In 1961, the United Nations sent a peacekeeping force from Ireland to the province of Katanga in the Congo, which was led by Commandant Pat Quinlan. Their mission was to protect the citizens of the mining town of Jadotville amidst a civil war at the time.
In the meantime, the United Nations advisor Dr. Conor Cruise O'Brien began a military campaign against mercenaries from France and Belgium known as Operation Mordor.
Due to the mercenaries' counterattack, many Katangese and mercenary forces soon surrounded Quinlan and his men.
In addition, will the Irish soldiers be able to prevent the attack from happening? The notable actors cast are Michael McElhatton, Jamie Dornan, Mark Strong, Mikael Persbrandt, Jason O'Mara, and Danny Sapani.
Rebellion (2016-2019)
Rebellion has quickly risen to become one of the most popular St. Patrick's Day movies on Netflix. The story of how modern Ireland came to be is told in the drama series Rebellion, which consists of five episodes.
In addition, the narrative is recounted from the perspective of a made-up group of individuals who were present during the political events that took place during the Easter Rising in 1916.
Several talented performers play leading roles, including Charlie Murphy, Ruth Bradley, Sarah Greene, Brian Gleeson, Niamh Cusack, and Michelle Fairley.
Philomena (2013)
Martin Sixsmith, a former journalist played by Steve Coogan, is uncertain about his future after being disgracefully booted from the Labour Party.
He is told about her mother, Philomena Lee, by a young Irish woman who approaches him and introduces herself. Who took her son away from her when she was a teenager and living in a convent of the Catholic faith?
In addition, Martin makes it possible for her to write an article for a magazine about her search for him, which takes place in the United States.
On the other hand, as they travel together, Martin and Philomena discover just as much about each other as they do about her son's future. In addition, both have their most fundamental beliefs called into question.
Judi Dench, Steve Coogan, Sophie Kennedy Clark, and Mare Winningham are some outstanding actors in the cast.
Black 47 (2018)
The action takes place in Ireland at the time of the Great Famine. The story revolves around an Irish Ranger who, after serving with the British Army in another country, returns home to be with his family after deserting his post.
Despite his experiences throughout the conflict, he is shocked by the devastation that starvation has caused to his nation. And the cruel treatment of his people as well as his family.
The members of Black 47 are as follows: Hugo Weaving, James Frecheville, Jim Broadbent, Stephen Rea, Freddie Fox, Barry Keoghan, Moe Dunford, and Sarah Greene.
Can't Cope, Won't Cope (2016-2018)
Can't Cope, Won't Cope is one of the best movies related to Saint Patrick's Day that can be found on Netflix. The film is darkly comedic and tells the story of the end of a friendship between two young ladies who are co-dependent on each other. As the hangover subsides, their lives and values begin to diverge significantly from one another.
Several people are in the cast, including Muiris Crowley, Sheila Moylette, and Seána Kerslake.
Riverdale: The Animated Adventure (2021)
Keegan, an Irish boy, and Moya, a Spanish girl, travel to the legendary kingdom of the Megaloceros Giganteus, where they are instructed to adopt Riverdance as a way of life by the inhabitants of that land.
In addition, this is an animated voyage of sight, sound, and movement that has never been seen before, and the global stage sensation inspires it. It also includes new music composed by Grammy winner Bill Whelan.
The cast includes several well-known actors and actresses, such as Pierce Brosnan, Aisling Bea, Brendan Gleeson, Pauline McLynn, John Kavanagh, and Lilly Singh.
Brain On Fire (2016)
Our ranking of the best movies about St. Patrick's Day comes to a close with the movie Brain on Fire. The horrific struggle an author goes through to overcome a unique neurological condition is depicted in the movie.
From the moment she notices that she is having symptoms to the various attempts made to identify her illness to the ultimate discovery of the trustworthy origin of her condition, this is her journey.
In addition, it is based on the actual events that occurred in the life of Susannah Cahalan, a journalist for the New York Post, as described in the book "Brain On Fire." There will also be appearances by actors such as Jenny Slate, Thomas Mann, Tyler Perry, Carrie-Anne Moss, and Richard Armitage.