October brings about a month of cool weather, pumpkin spice, and everything horror. In recent years, there has been a resurgence of the horror genre, revitalized by smaller games such as Slender Man, Amnesia, and Outlast. These games brought in an audience. They redefined the horror genre, more precisely the survival horror genre. But where did it all start?
In the early 90s the survival horror genre existed with little diversity, mostly just point and click adventures. Games such as Alone in the Dark and Sweet Home, a Capcom game, were critical horror successes.  Resident Evil's flagship team, originally set to remake Sweet Home, was headed by Shinji Mikami and Tokuro Fujiwara. Little did they know, however, they were creating a game that would change the world of gaming.
RESIDENT EVIL
No doubt, Resident Evil impacted the gaming community. It provided the survival horror experience that people craved from video games. Many aspects of the game revolutionized the horror genre, from pre-rendered backgrounds, which gave the game an ascetically pleasing feel, to the clever loading screens. The game had a way of immersing the player as well as scaring the pants off of them. It delivered on every level.
While Resident Evil's voice acting is as famous as the game itself because of its poor quality, it was still innovative for its time. Capcom pushed the limits and did not shy away from trying something new. The game took place in one confined area, a mansion that contained tons of backtracking and puzzle-solving. Limited ammunition and a lack of saving forced the player to get creative. What offered the biggest challenge, however, was the control scheme. Those familiar with the series understand the love/hate relationship with the controls. On one hand, the tank controls were frustrating to navigate at times, yet this lent itself to a terrifying experience. Not being able to run out of a situation with ease gave the feeling of immediate terror.
Resident Evil offered many different enemies, too, without many ways to dispose of them. From zombies, zombie dogs, mutated plants, hunters, to the tyrant, the game was not short of enemies. The player had to pick and choose what zombies they wanted to kill. Add in lots of backtracking and one gets a recipe for a constantly suspenseful game. A surprise waited around every corner.
Not to mention the iconic characters. How can anyone forget the B-movie horror intro, as well as the cheesy dialogue? Jill sandwich anyone? These things would become a staple of the series. Due to their willingness to try something new, Resident Evil set the standard for survival horror. One can say that they even defined it. With around 3 million original copies sold as well as critical acclaim, it became evident that people wanted more games like this.
RESIDENT EVIL 2
Resident Evil made its case for defining the horror genre, but the question that came after the original game was, how will they follow it up? They quickly began to work on a sequel. The first cut of the game got canceled late into development due to disagreements among the team, and that cut is now known as Resident Evil 1.5.  This worked out well for them because what ensued might very well be the best game of all time.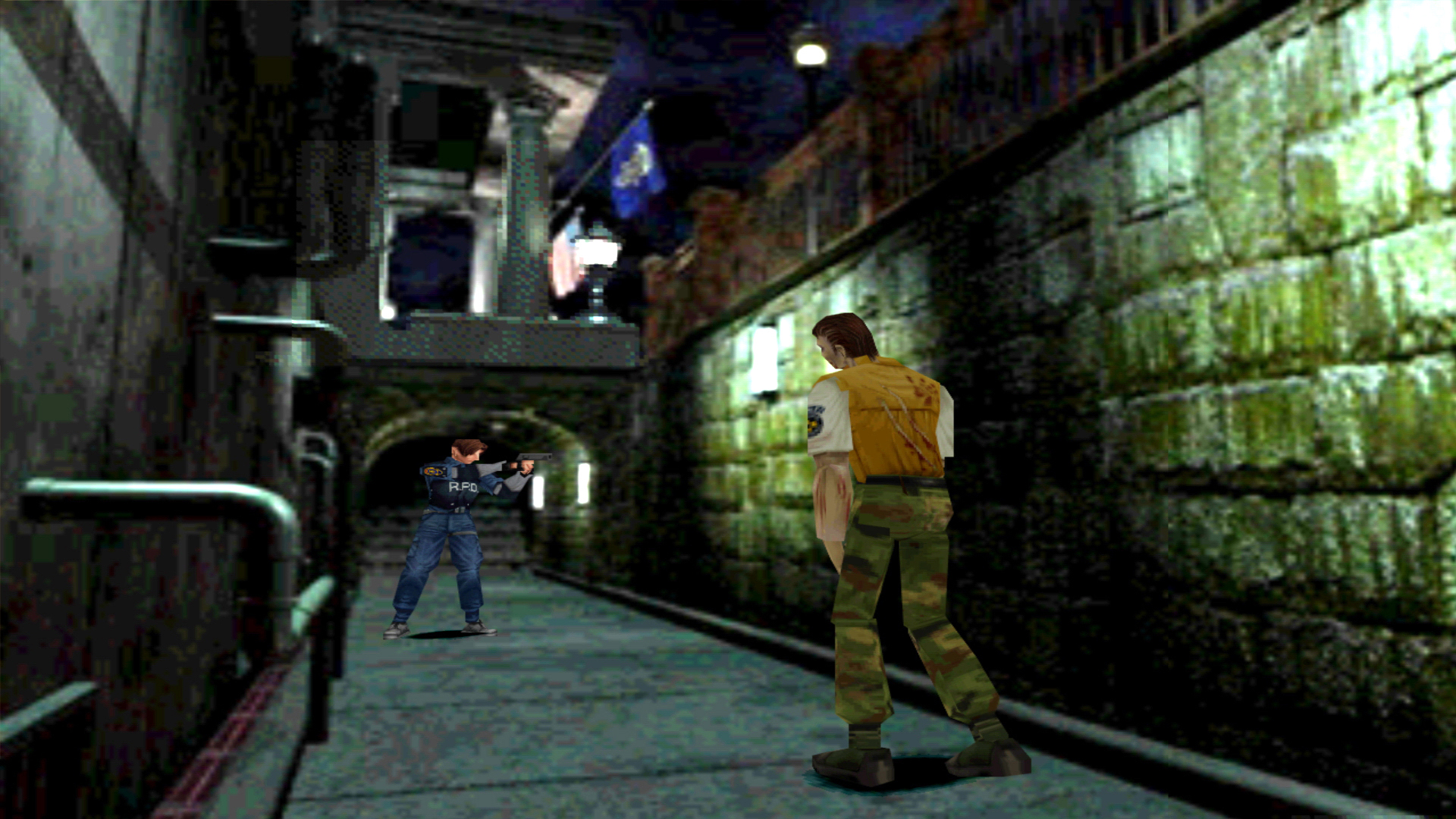 In 1998, the world received Resident Evil 2. Hideki Kamiya, who worked on the original team, was the director, and he hired most of the original team to create this game. Everything that everyone loved about the first game was present in the second, just much better and bigger. The game had better graphics, story, enemies, bosses, and everything in-between. With its predecessor having laid the groundwork, Resident Evil 2 exploded. Over 5 million copies were sold becoming the franchise's best-selling game on a single platform. Having broken the sales record of FFVII and Super Mario 64, Resident Evil 2 made its case to be considered one of the greatest games of all time.
Other than bad voice acting — which is beloved by some as a staple of the series — and tank controls — which again is beloved by some — the game had little to no flaws. The game introduced an interwoven storytelling process, known as the "zapping system". There were two stories, Leon or Clair, which also had an A scenario and a B scenario. Meaning, the game essentially had four different stories. Through this, they were able to tell a deeper story. While the game delivered a similar experience to its predecessor, it also offered a very different experience by expanding on what it already did well. Capcom did not fear to risk expanding the series, which allowed them to create on of the greatest games of all time.
In retrospect, Resident Evil 2 held up well. Out of date controls, and the voice acting did not age well, yet, many play it to this day. Whether speed-runs or just playing for fun, players revisit the game constantly. Current popularity led to an outcry for a remake and fans will receive this in the upcoming years. But how would Capcom continue to build on this success?
RESIDENT EVIL 3
A year later, in 1999, Resident Evil 3: Nemesis hit shelves. Capcom had multiple Resident Evil games in development, with Resident Evil 3:Nemesis originally set as a spin-off. However, with PlayStation announcing the PS2, the team did not want fans to wait a few years for the next main
installment. At first, Hideki Kamiya was tasked with leading the team for this third game in the series, but with this change Capcom told his team to focus on the 4th game. This left Shinji Mikami at the helm for Resident Evil 3: Nemesis.
Using the same engine as its predecessors, Resident Evil 3 was more or less the same as what fans were used to. Taking place in the familiar area of Raccoon city, the game follows everybody's favorite S.T.A.R.S member, Jill Valentine. With a crew of side characters and cheesy dialogue, the game held true to its roots. Providing a familiar gameplay for the players, the game had more puzzles, more backtracking, and more enemies.
It brought only a few new ideas to the table. The players could now perform quick 180 turns and use dodge moves to avoid enemies. They also had the option of customizing their own ammunition with a special tool. The game did not seem to differ greatly from the other 2 installments, however, one element set the game apart, the bio-organic weapon that fueled players nightmares, Nemesis. This gave the game more of an action feel to it, given its quicker pace and constant confrontations with Nemesis. This, also, kept the suspenseful element that the series became known for while, allowing for more enemies and ammunition.
This game continued the trend of the previous iterations, continuing to build on what already worked. Richer detail, more enemies, deeper story, and a quicker pace moved the series forward. A compelling story, with fun characters, and an impossibly persistent enemy, Resident Evil 3: Nemesis offered an enjoyable experience while also finding the commercial and critical success of its predecessors. All-in-all, it sold around 3.5 million copies and receiving critical praise the game succeeded.
So, What's next?
The Resident Evil series set the standard and defined survival horror. In turn, it created a market for this genre, and one that spoiled fans with the greatness of Resident Evil. Games such as Silent Hill, Dino Crisis, and System Shock owe their popularity to this series. The question though became, 'What's next?'
With a new generation of consoles on the horizon, the series needed a change. They had produced three great games but knew that change needed to occur if they were going to keep their legacy alive. How would they handle the changing landscape?
Check out next article in this series here.